enquire nowManali - Leh - Mountain biking Tour
About the tour:
Mountain biking amongst the majestic background of the Trans Himalayan ranges is an unforgettable and thrilling experience. This 15 days mountain biking tour involves crossing over five high mountain passes up to a height of 5600 mts and providing spectacular views of snow capped peaks, rugged terrain and travelling through one of the most spectacular & picturesque landscapes in The World. It winds its way through some of the most hostile terrains. The entire stretch of 475 km between Manali & Leh offers a challenge to mountain bikers who have the opportunity to cut across the majestic Himalayan ranges through 5 mountain passes. This activity will test both your physical and mental levels of endurance to the limit. While peddling away to glory, take time to enjoy the picturesque surroundings.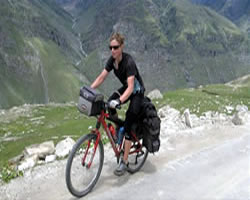 Best Time:
The best time for mountain biking in India is between the months of June to September, when mountain roads are open to traffic.  
Total Biking: 600 Kilometre Approx
Mountain Passes: Rohtang Pass ( 3980 mt ) - Baralachala ( 4830mt ), Nakila ( 4900 mt ) Lachulung la ( 500o mt ) , Tanglang La ( 5360mt ) and Khardungla ( 5600 mt )  
Physical Requirement:
There is no special or prescribed physical requirement for a person interested in taking up the sport of mountain biking but expectant mothers and people suffering from high blood pressure and heart problems must stay away from it. Even if you are physically fit for embarking on a mountain biking trail, make sure that you are acclimatized to the local climatic conditions before starting.
Bikers are requested to bring their own, Biking shoes, bike helmet, knee guard, insulated gloves/waterproof gloves, cycling bags to carry essential material or your belongings, insulated sports bottles for keeping beverages cool, first aid kit, sunglasses, and sunscreen lotions.
You can also bring your own mountain bikes or we can provide you on hire from Manali also.
Day wise description
Day 01: Delhi - Manali ( 585 kms / 12 - 14 hrs Approx ) by overnight Volvo coach
In the evening board on semi sleepers AC Volvo coach to Manali at 15:30 hrs. Overnight at coach (no meals included).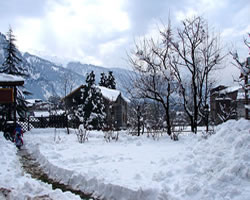 Day 02: In Manali
Meet on arrival at Manali bus station and transfer to your hotel. The day is free for relaxations and acclimatization. One can also go for a test riding to surrounding area or an acclimatization walk around the area can also be organised.  Overnight stay at hotel.
Day 03: Manali / Marhi ( 35 kms )
Today is your first day cycling up to Marhi. It's also a "warm up" for the tough ride ahead. It is all up hill ride through many hairpin bends to Marhi. Be prepared for all kind of weather contrast in this region. On arrival set up the camp. Dinner and overnight stay at tents.
Day 04: Marhi / Gondla over Rohtang Pass ( 3980 m ) ( 56 kms )
After breakfast at camp it is 15 kms accent to Rohtang pass (3980 mt). As we climb up there is change in vegetation, the tree line seems to be getting away from us making way for small bushes. In a clear sky you can see the snow-covered peaks & hanging Glaciers of CB ranges from Rohtang pass. From Rohtang it is a downhill ride to Koksar. Here we will have to register our self at police check post for further journey towards leh. Ride along the Chandra River and passing some very beautiful villages of Lahul valley we reach to Gondhla. Dinner and overnight at hotel.
Day 05: Gondla / Keylong / Jispa ( 49 kms )
From Gondhala it is almost gradual till Tandi, the confluence of River Chandra & Bhaga cross the bridge & proceed little uphill to Keylong town. Ride continues to Jispa (3300 mt) enroute is Gemur it is a mix of uphill and downhill ride. Dinner and overnight at tents.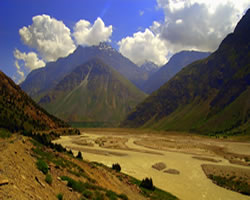 Day 06: Jispa / Darch / Zing Zing Bar ( 37 kms )
After crossing Jispa one is definitely in an isolated region & in far horizon you can distinctively see the bareness of the Higher Himalayan ranges. Darcha (8 kms from Jispa) is 2nd Police check post after Koksar in this route. From Darcah it all up hill ride to Zinging Bar, it is rivers who divide the Himalaya to different Mountain ranges one side you can see the Pir Panzal ranges and another side the Zanskar Mountains. Darcha can be considered the gateway to the Trans Himalayas. Now it is going to be all ascend till we come to the cantonment area of military at garrison of Himmatnagar, Zing – Zing meaning in local language is country liqure and there are few another sites also which were used by the British Surveyors for camping during the survey of Manali – Leh road and they named these sites after the liqures like Brandi Nallaha & Whiskey Nallaha. Dinner and overnight at tents at Zing Zing Bar.  
Day 07: Zingzingbar / Sarchu over Baralacha La 4830 m ( 53 kms )
From Zing Zing Bar it is a long winding climb up to Baralacha La (4890 mt)  and then a short descent down to Bharatpur City. As we move into the harsh terrain of the arid mountains the atmospheric pressure make the ride a bit more challenging. Scenery changes dramatically as one crosses the Great Himalayan Range into the arid regions of Ladakh. You can see the edelweiss flower along the road and some time you cam also see the Himalayan marmots.   The Himalayan marmot is one of the more playful creatures of the Alpine environment. Descending from the pass to Sarchu we pass barren hills and get excellent views of the Zanskar and Ladakh ranges in the distance. Dinner & overnight at tents in sarchu.
Day 08: Sarchu / Takh ( 40 kms )
It is a flat road till the base of Nakila, The road now leads out of the Sarchu plateau heads north having entered the state of Jammu & Kashmir.goes dizzily up the gata loops a series of 22 bends that takes us to the Naki la (4900 mt). if lucky one can also see a mountain goats and Ibex in a herds along the roadside. We head into a gorge just before reaching the small campsite at Takh. Dinner & overnight at tents in Takh (4200 mt).
Day 09: Takh / Lachulang La 5019 m / Pang ( 40 kms )
Going along the winding road-amazing hill formations appear having been sculpted by the strong winds so particular of this region that takes us to the top of Lachulung La pass (5019 mt). Down hill settlement of Pang. Dinner & overnight at tents at pang.
Day 10: Pang / Rumtse over Tanglang La 5360 m ( 94 kms )
From Pang it is a up hill ride of 10 kms till more plains. Changpas, the Nomadic people who tend their yaks here and a few wild asses are the only sign of life on this isolated and long plateau it is about 47 kms long and 2.5 kms wide ground. This belt not only barren but is known for fast blowing winds, sandstorms & extreme temperatures in the early morning and evenings. At the top of the pass a tiny temple and a few prayer flags flutter in the strong winds that are peculiar of this pass. This is the second motor able pass in the world. From here you can see the panorama of Zanskar & Ladakh ranges. After that ride all the way down to Rumtse, an oasis surrounded by barren rough hills is the first village on the way to Leh and the last village towards the Manali. Camp near the stream . diner and overnight at tents. 
Day 11: Rumtse / Upshi ( 35 kms )
Now it is a flat road till Upshi passing through several beautiful villages of Ladakh and viewing colourful mountains of the region. Dinner and overnight at camp in Upshi.     
Day 12: Upshi / Leh ( 51 kms )
Cross the Upshi Bridge over River Indus and a smooth road leads to Leh along the Indus River. Finally reaches Leh . on arrival check in at hotel. Dinner and overnight at hotel.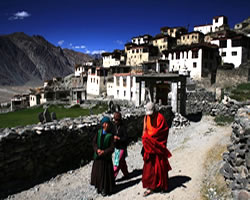 Day 13: In Leh - Visit Khardong La 5600 m ( 39 km )
Today is the day we all came on this ride - to be on Top of the World - the Khardung La (5602M)!!! The initial smooth going track becomes tougher as we ascend, full of boulders and stones - but it is certainly worth the ride. From the pass, one can see all the way south over the Indus valley to seemingly endless peaks and ridges of the Zanskar range, and north to the giants of the Saser massif.
Day 14: In Leh - free day for relaxation or to explore surrounding
Day free for relaxation or visit to the near by places by car (direct payment basis)
Day15: Depart Leh
In time transfer to Leh airport to board your flight back to Delhi
Applicable Nett Rates ( per person cost )
For x 02 person: Rs 89600 per person
For x 03 – 05 person: Rs 65000 per person
For x 06- 08 person: Rs 61000 per person
For x 09- 10 person & above: Rs 59500 per person
Single room supplement: Rs 10500 per single on twin sharing cost  
Mountain biking hire: Rs 10500 per bike ( day 03 to Day 13 only )
Incase you are bringing your own bikes then any cost occur to transfer the bikes to Manali or from Leh to Delhi would be borne by the guest directly.
Hotel / camps included are as:
Manali Snow Peak Retreat
Leh Hotel Pangong or similar
Marhi till Leh Tented accomodation ( moving camp / trekking style camping )
The above rates include the following as:-
Accommodation in mentioned or similar hotels on twin sharing basis. Check in/ out time is 12 noon
Accommodation Manali onward till Leh arrival in Moving camp ( trekking style tents)
Service of attendant and a cook  during camping
Full board basis starting with Dinner in Manali till Breakfast on departure from Leh (breakfast & dinner would be hot and we provide packed lunches during long rides or excursions)
One back up van (utility or pick up jeep for your baggage & camping gears only)
Accompanied co - coordinator for the entire tour (not riding mountain bikes)
Entrances to place of visit & Innerline Permit (camera fee not included)
Volvo bus tickets for overnight journey from Delhi to Manali
Transfer from Manali bus station to Hotel and Leh hotel to Leh airport by cars.
Presently applicable taxes
Cost Does Not Include
Any airfare/ train fare, mountain bikes & supporting gears, any other meal than mentioned in itinerary, any personal or travel Insurance, tips, gratuities, portage, laundry, telephone calls, table drinks or any other expenses of personal nature, any item not specified under cost inclusions.
IMPORTANT OPERATIONAL POINTS:-
It is in the nature of a holiday of this kind (Adventure Tour) to be flexible. The day to day agenda and ultimate goal of the tour is taken as an aim and not as a contractual obligation. We shall not be responsible for the delays or alterations in the program or expenses incurred due to rain, landslides, flood, conflict, internal flight delay or cancellations, strikes, sickness, weather, war, vehicle problems, political closures and disputes. Any alterations in programmes and any extra expenses thus incurred due to any reason beyond our control has to be settled directly if such charges come up to make necessary amendments and arrangements for a safe passage. Failing direct settlement of expenses, the company in operation would have to furnish us a guarantee of payment in writing and make payments before the tour services terminates.
Mountain Biking is an adventure activity and the rates donot cover any insurance, risk cover, damages, claims etc. A person coming on adventure tour has to be covered for adventure travel & activities apart from normal travel insurance. Snow Peak travels or any of its service providers would not be liable in any case for any mishap/ loss etc.
Your participation in a trip is entirely at your own risk. We are NOT responsible or liable for any injuries you may suffer, fatal or otherwise. Also, we are NOT responsible for any loss or damage to your property, irrespective of how any damage may have been caused.
We will provide 01 support vehicle (utility jeep or mini truck as per the group strength) which would carry client baggage and camping gears only
Damage of the cycles of any kind due to any accident/ fall or any other reason etc during the tour would have to be paid by the guest as per actual cost occurred for the damage.
The accompanying guide (coordinator) would not ride the cycle  but would follow the group in the support vehicle only
Group members would have to get own helmets/ knee guard/ elbow guards/ shoes/ biking trousers & jackets. Wearing a helmet is mandatory 
IMPORTANT NOTE:
Services subject to full advance payments only
Cost incidental to any change in the itinerary / stay on account of flight cancellation due to bad weather, ill health, roadblocks and/or any factors beyond control.
Please note, the names of hotels mentioned above only indicate that our rates have been based on usage of these hotels. It is not to be construed that accommodation is confirmed at these hotels until and unless we convey the confirmations to you on receipt of your acceptance. However in the event of any of the above mentioned hotels not becoming available at the time of initiating the reservations, we shall book alternate accommodation at a similar or next best available hotel and shall pass on the difference of rates ( supplement/reduction whatever applicable ) to you.
Company Liability:-
A person booking any of group departure or tour of Snow peak would have to give an undertaking stating that he / she has been communicated very clearly all the Terms & Conditions of the tour and he/ she understand fully the risks involved in a holiday of this kind and incase of any death, accident, mishap that may occur during the course of tour would be his/ her sole responsibility and the company or any of its associates/ team members would not be responsible or liable in any case. 
The booking is accepted on the understanding that you realize the potential risks and hazards that can be involved in holidays of this kind. Snow Peak, along with our leaders/guides and any one else working in association with us can not be held responsible for any death, accident or mishap that may occur in connection with any part of, or services connected with the holiday.
The cost is for the entire package and there would be no refunds in case any part of the package is not availed.
The Company would not be liable to pay any kind of compensation arising because of any mishap, sickness, accident etc.