enquire nowHidden Treasure – Kinnaur – Spiti Mountain Biking
About the tour:
Mountain biking amongst the majestic background of the Trans Himalayan ranges is an unforgettable and thrilling experience. Over The Old Hindustan Tibet Road starting from Shimla, a magnificent 16 days tour with 14 days of MTB rides to amazing Kinnaur & Spiti Valley. During the cycling one can see the most exotic sight of Himalayas which will be an unforgettable experience.  From the green valleys, deep forests and fertile meadows of Kinnaur, to the arid and desert plateaus of the Spiti Valley greatest variety of landscapes that the Himalayas have to offer. While peddling away to glory, take time to enjoy the picturesque surroundings. Highest elevation in this route is Kunzum Pass (4590 mtrs)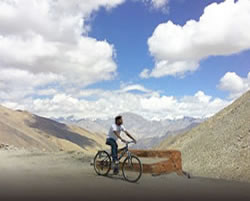 Best Time:
The best time for mountain biking in India is between the months of June to September, when mountain roads are open to traffic. 
Accommodation:
Nowadays there are numerous guest houses, small hotels available in this route almost at all places till Kaza. Hence will make the arrangement at these hotels / guesthouses only. Your camping crew will meet you at pin valley or in Kaza and from here onward till Manali arrival accommodation will be provided in trekking style tents only. However a support back up vehicle (utility or pick up vehicle) will be provided throughout your cycling tour starting from Shimla till Manali.     
Total Biking: 865 Kilometre Approx-
Mountain Passes: Kunzum pass (4590 mts) and Rohtang Pass (3980 mt)
Physical Requirement:
There is no special or prescribed physical requirement for a person interested in taking up the sport of mountain biking but expectant mothers and people suffering from high blood pressure and heart problems must stay away from it. Even if you are physically fit for embarking on a mountain biking trail, make sure that you are acclimatized to the local climatic conditions before starting.
Bikers are requested to bring their own, Biking shoes, bike helmet, knee guard, insulated gloves/waterproof gloves, cycling bags to carry essential material or your belongings, insulated sports bottles for keeping beverages cool, first aid kit, sunglasses, and sunscreen lotions.
You can also bring your own mountain bikes or we can provide you on hire from Manali also.
Day wise description
Day 01: Arrival Shimla ex Delhi / Kalka by train
Board morning Shatabdi express train to Kalka. On arrival in Kalka board on connected toy train to Shimla. The Kalka–Shimla Railway was built to connect Shimla, the summer capital of India during the British Raj, with the Indian rail system. Spectacular scenery along the whole route, and the marvels of its construction, keeps the traveler on this line spell bound. On arrival in Shimla transfer to your hotel. Rest of the day free to explore The Mall & the Ridge. Overnight at hotel in Shimla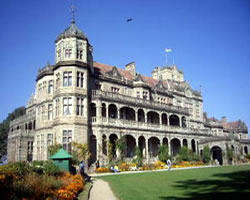 Day 02: In Shimla
Shimla was the summer capital of India under British rule. Presently it is the state capital of Himachal Pradesh. Shimla has seen many historical events such as the famous Shimla Pact between India and Pakistan which was signed here. The place is also famous for its natural beauty, architectural buildings, wooden crafts and apples. In the evening join for dinner and overnight stay at hotel. Visit Indian Institute of Advanced Studies, Gaiety theatre, Christ Church, Jakhu Temple, The Mall and The Ridge. Dinner and overnight at hotel.
Day 03: Shimla - Narkanda ( 65 kms )
Today is your first day cycling up to Narkanda It's also a "warm up" for the ride ahead. The road goes through pine forests, with great views across deep valleys terraced with orchards. If the weather allows, there is a tremendous view of snowy Himalayan Mountains on the horizon. There are several small villages on the way. On arrival in Narkanda check in at hotel. Overnight at hotel.
Day 04: Narkanda - Sarahan ( 90 kms )
Bike along the Sutlej River from Narkanda enroute visiting Sun temple at Nirath and Rampur. it is level road till Rampur, continue onto Sarahan – summer capital of Rampur Busheher. The Bhimakali Temple is a big attraction; you can also get magnificent views of the ShirKhand peaks. This temple is about 1500 years old. Overnight stay in
Dday 05: Sarahan - Sangla ( 90 kms )
After an early break fast at hotel cycle down to the main road, to ride further on to Sangla, also called the Baspa Valley. It is the most scenic valley of Kinnaur. Check in at camp/ guest house. Dinner and overnight at camp/ guest house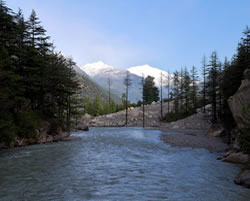 Day 06: In Sangla
After a leisurely breakfast explore the beautiful & the picturesque village of Chitkul. Ride back to Sangla. Rest of day free to relax or make walks to nearby Batseri village. Overnight at camp/ guest house.
Day 07: Sangla - Kalpa ( 51kms )
Morning visit Kamru village and fort. Later continue to Kalpa located in backdrop of Kinner Kailash mountain range. On arrival check in at hotel. Rest of the day free to explore Kalpa village. Overnight at hotel.
Day 08: Kalpa - Nako ( 110 kms )
It is a mix of downhill, level and uphill ride along the River Sutlej towards Spiti via Khab, where the Satlej joins in to the Spiti River. Then an uphill ride to Nako – the most charming village offers scenic views all around. Nako village is beautifully located on banks of a small & sacred lake called Tso Pema (Lotus Lake). The monastery complex in the village has four temples in an enclosure built with mud walls. It is also dated to the second coming of Buddhism to the region and is credited to Rinchen Zangpo. An impression of a foot found near the Nako Lake is ascribed to Guru Padmasambhava.
Overnight stay on a camp/ guest house.
Day 09: Nako - Tabo ( 69 kms )
Enter Spiti Valley. After we reached a small hill of 3800m, leads a wonderful downhill through impressive rock formations to the Sumdo Spiti River. The small "hamlet" Tabo at 3050 meters above sea level, which is surrounded by high mountains. The temple complex of Tabo in one of the most important Tibetan Buddhist Monasteries around the world and home to important art treasures.Tabo Monastery was founded in 996 AD by Tibetan scholar Rinchen Zangpo. It is often called the Ajanta of Himalayas; famous for its murals and statues. In trans Himalayas Buddhism, Tabo sanctity is next only to Tibet's Tholing Gompa. Overnight stay in guest house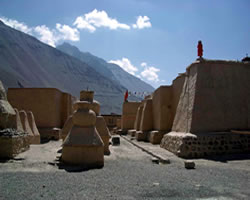 Day 10: Tabo - Dhankar - Kungri ( 50 kms )
After breakfast at guest house ride your cycles to Dhankar the old capital of Spiti and visit the Monastery later a 9 kms downhill ride till Attargu bridge the gateway to pin Valley. One of the four local units of Spiti is the Pin valley which lies on either side of the Pin river. Geographically, the Pin valley is shut off from the rest of Spiti by high mountains. The only opening has been provided by the Pin River that forces its way through a deep narrow gorge to join the main river Spiti, at Attargu.
Pin Valley is famous for ibex, snow leopard and old monasteries. Overnight at guest house / tent
Day 11: Kungri - Kaza ( 48 kms )
After an early breakfast visit the Kungri Monastery and ride your cycles to Kaza. It is a level ride till Kaza.  Set up of camp at Rangrik near Kaza. Overnight at tents.
Day 12: In Kaza
After a leisurely breakfast at camp, ride on your mountain bikes to Kibber village (21 kms) one of the highest permanent inhabited village in the world, situated at the elevation of 4200 m located in a semi bowl-shaped narrow valley. Later ride downhill back to Kaza enroute visiting Ki monastery. This centuries – old gompa is a labyrinth of rooms and corridors – and at one time also acted as a fort. It houses valuable Thangkas and offers a panoramic view of the area. dinner and overnight at tents.
Day 13: Kaza - Losar ( 58 kms )
It is almost a level road to Losar as you pass through several beautiful villages of Spiti Valley. The last village of the valley is Lossar, where you can visit the Gompa and village. Later, it will be a short ride to the beautiful campsite. Dinner and overnight stay on camp.
Day 14: Losar - Chattru over the Kunzum Pass 4558 m, ( 62 kms )
From here it is a level raod till the base of Kunzum pass and then a 9 km uphill ride to reach the Kunzum Pass (4590mt) which offers an extensive view of the mountains. A small temple along the pass is dedicated to the Goddess Kunzum Devi. From Kunzum a descending rough road to Batal and further onto the Chandra Valley, to Chhatru. Overnight stay in camp.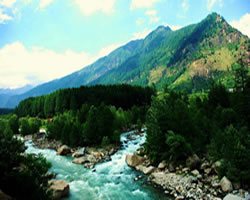 Day 15: Chattru - Manali over the Rohtang La ( 3980 m ) ( 81 kms )
It is a dirt road to Gramphu that joins the main highway of Manali – Leh. From Gramphu an uphill ride to the Rohtang Pass (3980 m). Rohtang is the gateway between Lahaul/ Spiti and Kullu. From Rohtang descent by a snake-curved road through pastures of wild flowers to Manali. Arrival Manali by late evening. On arrival check in at hotel. Overnight at hotel.
Day 16: Departure Manali  
Day free for relaxation or you have option to explore the surrounding places. Later in afternoon (4:30 pm) transfer to Volvo bus station to board overnight Volvo coach to Delhi. End of the tour and our services. 
Applicable Nett Rates ( per person cost )

For x 09 - 10 person & above: Rs 88000 per person
Single room supplement: Rs 30950 per single on twin sharing cost
Mountain biking hire: Rs 10500 per bike ( day 03 to Day 15 only )
Incase you are bringing your own bikes then any cost occur to transfer the bikes to Manali or from Leh to Delhi would be borne by the guest directly.
Hotel / camps included are as:
Shimla Kalra Regency or similar
Narkanda Hotel Hatu or similar
Sarhan Green Valley guest House
Sangla Apple Pie or Rupin River View guest house
Kalpa Apple Pie or similar guest House
Nako Leo Purgiyal Guest house or Kinner Camp
Tabo Tiger Den or Milleneum Guest house
Pin Valley Onward till Manali Moving Camp ( trekking style camping )
Manali Snow Peak Retreat
The above rates include the following as:-
Accommodation in mentioned or similar hotels on twin sharing basis. Check in/ out time is 12 noon
Accommodation Pin Valley Onward till Manali arrival in Moving camp ( trekking style tents )
Service of attendant and a cook during camping ( Pin Valley onward only )
Full board basis starting with Dinner in Shimla  till Lunch on departure from Manali ( breakfast & dinner would be hot and we provide packed lunches during long rides or excursions )
One back up van (utility or pick up jeep for your baggage & camping gears only)
Accompanied co - coordinator for the entire tour ( not riding mountain bikes )
Entrances to place of visit & Innerline Permit (camera fee not included)
Volvo bus tickets for overnight journey from Manali to Delhi  
Transfer from Shimla station to Hotel and Manali hotel to Volvo bus station by cars.
Presently applicable taxes
Cost Does Not Include
Any airfare/ train fare, mountain bikes & supporting gears, any other meal than mentioned in itinerary, any personal or travel Insurance, tips, gratuities, portage, laundry, telephone calls, table drinks or any other expenses of personal nature, any item not specified under cost inclusions.
IMPORTANT OPERATIONAL POINTS:-
It is in the nature of a holiday of this kind (Adventure Tour) to be flexible. The day to day agenda and ultimate goal of the tour is taken as an aim and not as a contractual obligation. We shall not be responsible for the delays or alterations in the program or expenses incurred due to rain, landslides, flood, conflict, internal flight delay or cancellations, strikes, sickness, weather, war, vehicle problems, political closures and disputes. Any alterations in programmes and any extra expenses thus incurred due to any reason beyond our control has to be settled directly if such charges come up to make necessary amendments and arrangements for a safe passage. Failing direct settlement of expenses, the company in operation would have to furnish us a guarantee of payment in writing and make payments before the tour services terminates.
Mountain Biking is an adventure activity and the rates donot cover any insurance, risk cover, damages, claims etc. A person coming on adventure tour has to be covered for adventure travel & activities apart from normal travel insurance. Snow Peak travels or any of its service providers would not be liable in any case for any mishap/ loss etc.
Your participation in a trip is entirely at your own risk. We are NOT responsible or liable for any injuries you may suffer, fatal or otherwise. Also, we are NOT responsible for any loss or damage to your property, irrespective of how any damage may have been caused.
We will provide 01 support vehicle (utility jeep or mini truck as per the group strength) which would carry client baggage and camping gears only
Damage of the cycles of any kind due to any accident/ fall or any other reason etc during the tour would have to be paid by the guest as per actual cost occurred for the damage.
The accompanying guide ( coordinator ) would not ride the cycle  but would follow the group in the support vehicle only
Group members would have to get own helmets/ knee guard/ elbow guards/ shoes/ biking trousers & jackets. Wearing a helmet is mandatory 
IMPORTANT NOTE:
Services subject to full advance payments only
Cost incidental to any change in the itinerary / stay on account of flight cancellation due to bad weather, ill health, roadblocks and/or any factors beyond control.
Please note, the names of hotels mentioned above only indicate that our rates have been based on usage of these hotels. It is not to be construed that accommodation is confirmed at these hotels until and unless we convey the confirmations to you on receipt of your acceptance. However in the event of any of the above mentioned hotels not becoming available at the time of initiating the reservations, we shall book alternate accommodation at a similar or next best available hotel and shall pass on the difference of rates ( supplement/reduction whatever applicable ) to you.
Company Liability:-
A person booking any of group departure or tour of Snow peak would have to give an undertaking stating that he/ she has been communicated very clearly all the Terms & Conditions of the tour and he/ she understand fully the risks involved in a holiday of this kind and incase of any death, accident, mishap that may occur during the course of tour would be his/ her sole responsibility and the company or any of its associates/ team members would not be responsible or liable in any case. 
The booking is accepted on the understanding that you realize the potential risks and hazards that can be involved in holidays of this kind. Snow Peak, along with our leaders/guides and any one else working in association with us can not be held responsible for any death, accident or mishap that may occur in connection with any part of, or services connected with the holiday.
The cost is for the entire package and there would be no refunds in case any part of the package is not availed.
The Company would not be liable to pay any kind of compensation arising because of any mishap, sickness, accident etc.